---
GET A TASTE OF WHAT TO EXPECT IN THE LIONS DEN BELOW
---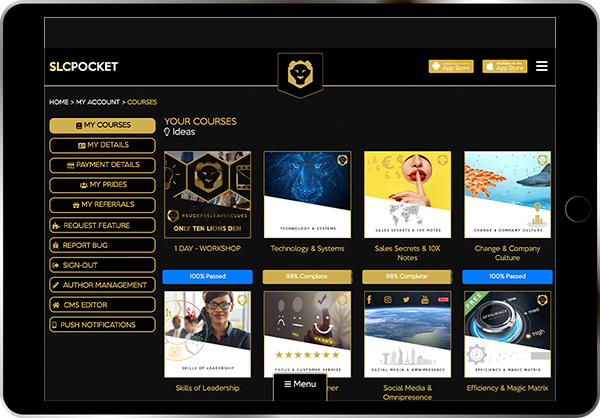 Access to SLCPocket App and courses including exclusive courses to Members of the 18
Only 18 Spaces will YOU be ONE of them?
Choose your number before they all go!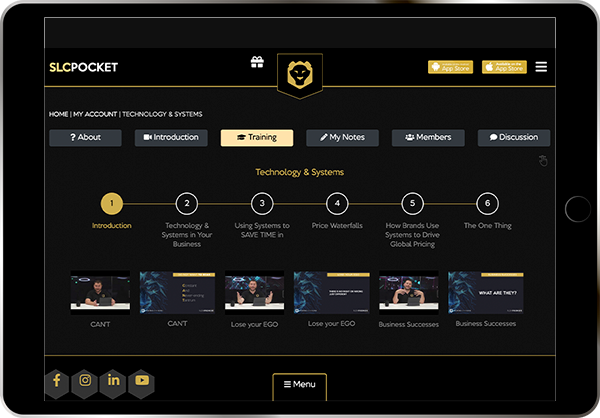 Catch up content and note capability within SLCPocket
*note: You can cancel your subscription anytime with a money-back guarantee but you have to be committed to get results and take action.
HOW YOU SPEND MONEY is HOW YOU MAKE MONEY, DO SOMETHING YOUR FUTURE SELF WILL BE PROUD OF
---
18 Entrepreneurs including myself growing their businesses and pushing boundaries. Accountable to each other, the 18 is a family of businesses making bigger moves and helping one another through the battlegrounds of business.
Recently I was looking for a new Mentor and Coach Myself.
When I looked online, the coaches and mentors had either never run a business, had failed businesses so switched to Training, sold their businesses, were not passionate enough for client success, more centred around themselves or just not thinking big enough. This is certainly a problem locally and not thinking big enough doesn't work for me. I HAVE built a powerful and successful network of other business leaders, with experience running up to nine and ten-figure businesses With #SuccessLeavesClues you get real business advice from those who walk the walk, not just talk the talk.
Your success is a total buzz for me and my network is also open to the 18. Reach for the Moon, and you will end up amongst the stars!
I want YOU to be so successful that YOU will play a bigger game, think bigger and your family can have a much better future.
YOU need to plug into a Powerful NETWORK to get the energy to be a true entrepreneur, and if you fall, you need friends to help pull you up. This is the 18. 18 Superheros in business on a journey together to become Power Players.
Some people believe that by waiting to join the 18 will become cheaper but if YOU join early YOU will get the early discounts. However, if you join later in the year the setup fee will increase each month this is to make it fair to the existing members as the modules will be available so you will have to catch up, with your challenges.
Furthermore, when the spaces are gone they are gone and you will have to go on the waiting list.
I am happy to do a trial session, however, if you decide to join you will have to pay for the trial session. If you don't intend to join after the session you won't have to pay. But you will not be added to the closed groups until you are a full member.
Should you wish to cancel, you can anytime but you will also be removed from courses and closed groups.
I am more than 100% confident in our methods. As long as you implement what you are being taught, if you do not see results, we'll give you a full refund.
Individually I will agree times that work for both of us on the 1-2-1's and as far as the MasterMinds and Group Sessions. We can discuss this in the closed groups to discuss what works best for everyone.